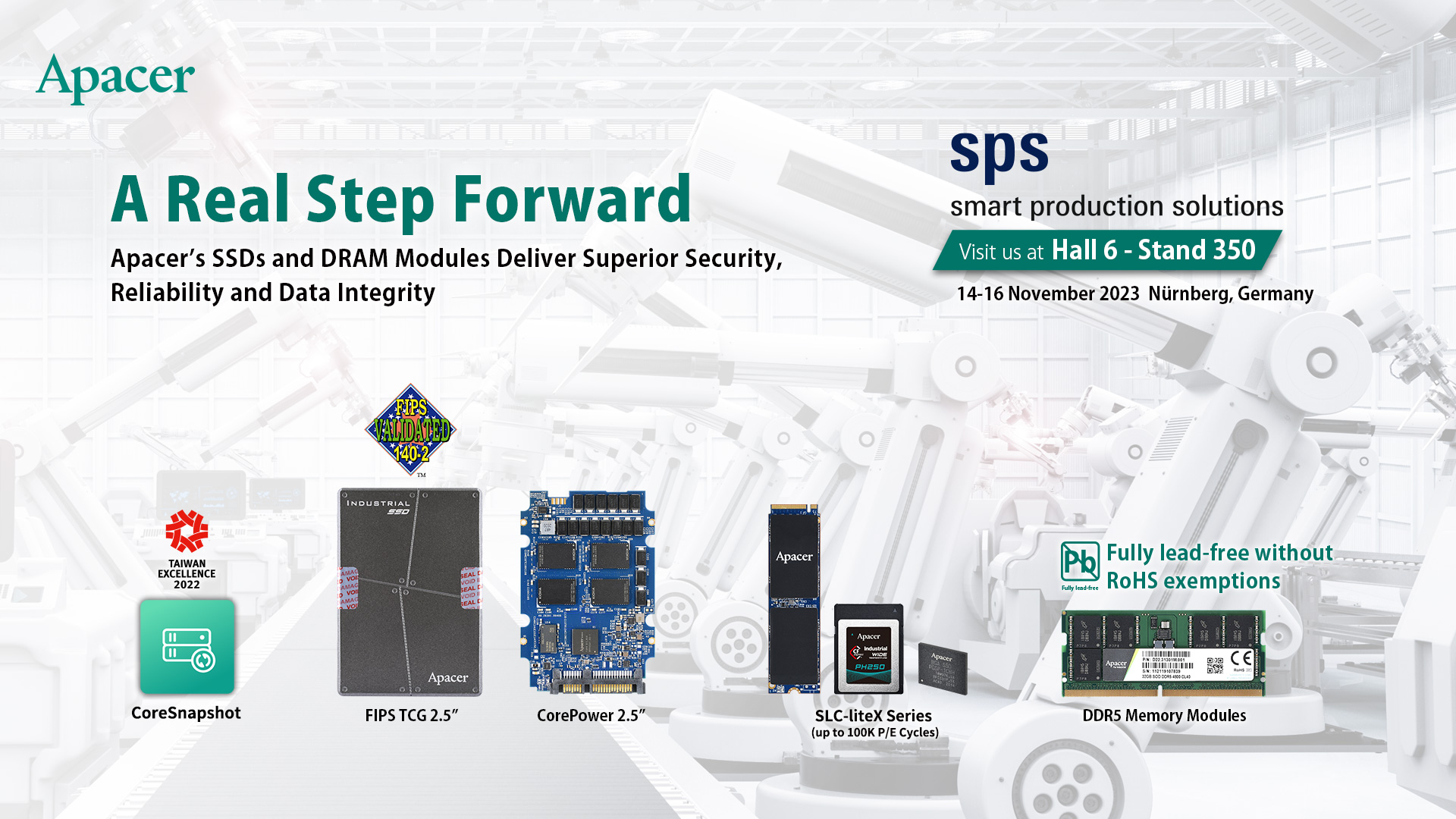 Apacer presents SSDs, DRAM modules and technologies for a plus in security, data integrity and reliability in industrial automation
Eindhoven, October 4th, 2023 – Apacer will be represented at SPS (14-16 November 2023, Nuremberg/Germany) for the first time. The storage specialist will showcase its high-performance SSDs and DRAM modules as well as technologies that increase security, power stability and data integrity in industrial automation applications and systems in Hall 6, Booth 350.
Apacer's first presence at SPS will focus on products and technologies that help ensure the data integrity, longevity, power stability, security, and durability of automation systems:
SV240 FIPS TCG SSD Series meets highest security standards
Proven to offer the highest level of security, the SV240 SSD series is certified to FIPS 140-2, the US government's security standard for testing crypto modules. The SSDs are also the first on the market to be available with a wide temperature range for use in harsh environments. The series includes four form factors (2.5", M.2 2280, mSATA and MO297, with optional support for rugged R-SATA connectors) and capacities of up to 1,920GB.
CoreSnapshot Technology: Backup and Recovery without reinstallation in seconds
The patented CoreSnapshot technology reduces the costs and frequency of maintenance and significantly increases the system utilization rate. It carries out backup and recovery via cloud access or out-of-band management in just seconds, without the need to reinstall the operating system. This makes CoreSnapshot ideal for increasing data integrity in 5G networks with smart devices. The technology is used in Apacer's Cloud SSD series with 2.5", mSATA, M.2 2242 and 2280 form factors. Advantech with its iBMC solution and remote device platform provider Allxon have already integrated CoreSnapshot into their platforms to significantly simplify disaster recovery. Visitors to the SPS can experience the CoreSnapshot technology live on a demo.
CorePower Technology: No data loss due to unexpected power outages
Apacer's CorePower technology ensures the power stability of SSDs even in the event of an unexpected power failure. A built-in low voltage detector will detect for abnormal power supplies and sends a signal to the controller to safely move all the cache data into the NAND flash. The power supply required for this is provided by a powerful tantalum capacitor. Apacer's BiCS5 3D TLC SSD series is equipped with CorePower technology. Due to strong demand, it is now available in even more form factors (2.5", M.2 2242, M.2 2280, mSATA, CFexpress and CFast).
The industrial SLC-liteX SSDs provide 100,000 P/E cycles, 33 times more than MLC or industrial 3D TLC products. Powered by carefully selected NAND components, the firmware structure is specifically optimized to enhance NAND flash stability during daily operations, and the error handling algorithm is significantly improved to avoid any unexpected ECC errors. This makes them the ideal memory solution for 5G and AIoT (Artificial Intelligence IoT) applications where massive amounts of data are captured and analyzed.
In addition, Apacer presents the DDR5 5600 DRAM, the world's first fully lead-free memory modules. By exceeding the requirements of the current EU RoHS Directive, it saves customers from claiming the RoHS 7(c)-I lead exemption clause and helps them develop sustainable products. The DDR5 modules offer twice the memory bandwidth of DDR4, a 50 % higher transmission rate, as well as more capacity, stability and energy efficiency.
SPS 2023
Date: November 14 - 16, 2023
Place: Nuremberg/Germany, Exhibition Centre
Apacer: Hall 6, Booth 350
More at: https://sps.mesago.com/nuernberg/en/exhibitor-search.detail.html/apacer-technology-bv.html