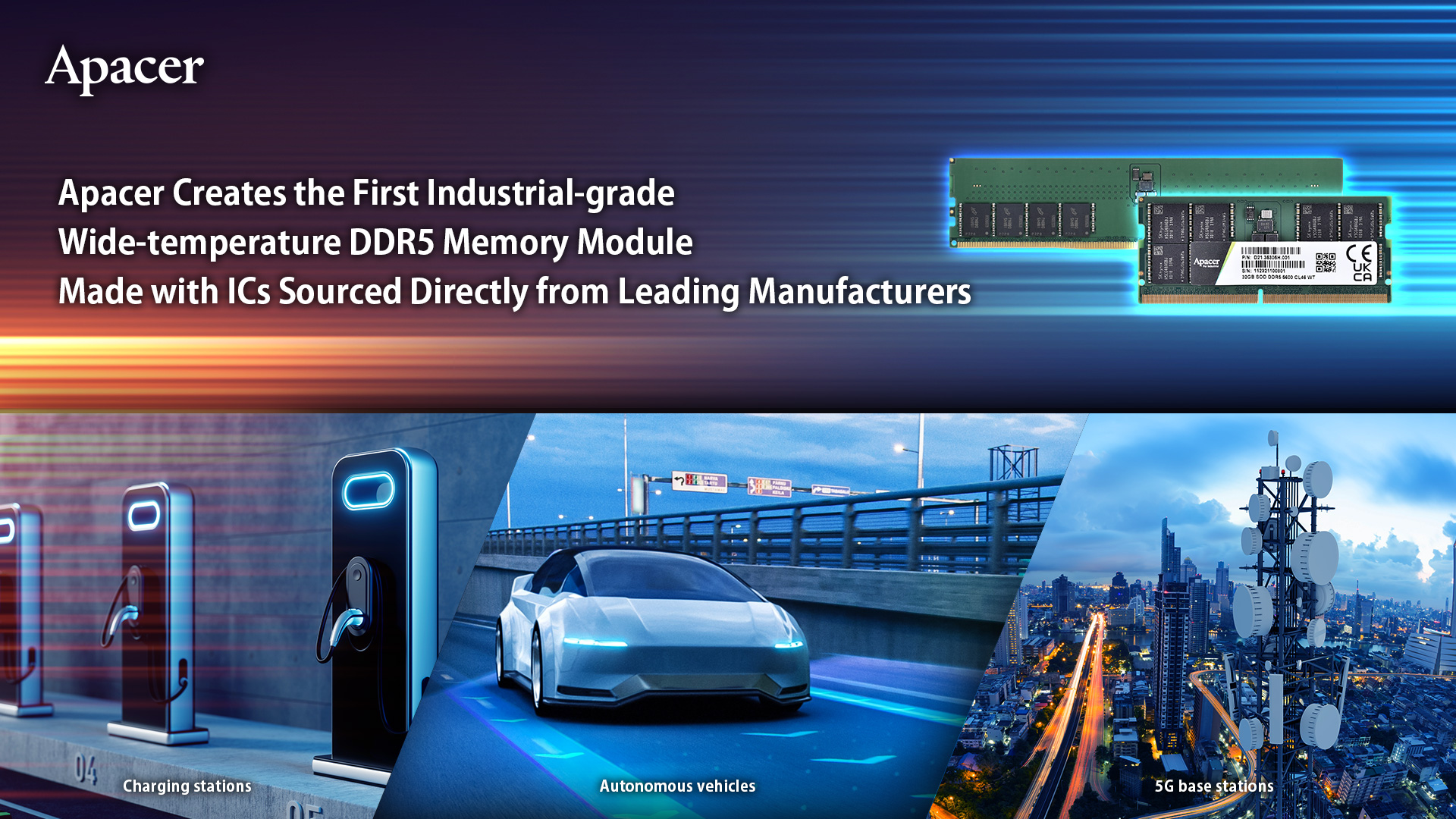 Apacer (8271), a leading manufacturer of industrial-grade digital storage and memory, once again has broken through the limitations and launched the industry's first industrial-grade DDR5 wide-temperature memory module made with ICs sourced directly from high-end manufacturers. Apacer is taking industrial-grade memory into a new era. Wide-temperature memories that are commonly produced on the market today using commercial-grade ICs and then pass through screening are prone to malfunctions and failures in extreme high and low temperature environments. Apacer insists on sourcing original industrial-grade wide-temperature ICs directly from their manufacturers and verifying them through original factory testing. With strict quality control, we provide customers with genuine truly reliable wide-temperature DDR5 memory. In particular, today's drastic environmental changes caused by climate change have brought more severe challenges to outdoor industrial equipment. Apacer's products provide industrial computers with higher performance and reliability, providing key technical support for industrial applications in many fields.
Apacer has long been committed to the R&D and manufacturing of industrial-grade wide-temperature memory modules. Apacer adheres to strict material specifications and carefully select wide-temperature components that meet industrial standards to produce stable and reliable wide-temperature memory modules. This persistence ensures that our products exhibit excellent stability and reliability in extremely harsh environments, including temperatures far below zero. These wide-temperature memory modules have not only been successfully used in new-generation industrial fields such as charging stations, 5G base stations, and autonomous vehicles, but have also won high recognition in the market, providing key technical support for these demanding applications.
With the introduction of this product, Apacer has made a significant technological breakthrough. Apacer's engineers carefully selected only the highest-grade DDR5 DRAM ICs, sourced directly from an extremely reliable supplier. This product adopts advanced 1a nanometer process technology and exhibits excellent high performance, low power consumption and wide temperature operating characteristics. Rigorous verification tests, including high temperature, low temperature, and temperature cycle tests, ensure the stability, flexibility and reliability of this memory module.
The newly launched wide-temperature DDR5 product line includes UDIMM, SODIMM, ECC UDIMM and ECC SODIMM versions, which support transmission rates up to 4800MT/s and 5600MT/s, and provide various capacity options such as 8GB, 16GB and 32GB to meet the varying needs of different customers. In addition, Apacer is proud to provide the industry's first fully lead-free version of wide-temperature DDR5 memory modules to ensure compliance with future RoHS standards. This exclusive option not only assists companies in fulfilling their ESG commitments, but also reflects our practical actions for environmental sustainability.
Apacer firmly believes that this major breakthrough will provide more efficient, reliable and adaptable solutions for industrial applications, and help the continuous advancement of industrial technology. This product is set to cement Apacer's position as one of the world's leading suppliers of robust, durable industrial-grade digital memory and storage.
【About Apacer】
Founded in 1997, Apacer (TWSE:8271) is a leading global digital storage brand with comprehensive R&D, design, manufacturing, and marketing capabilities. With years of accumulated patented digital storage technology and deep successful R&D experience, Apacer provides a competitive range of customized products and services. Our product lines are diversified, covering solutions for memory modules, industrial SSDs, consumer digital storage products and Internet of Things integrated applications.
Apacer is devoted to implementing our core value "Becoming Better Partners:" we deliver on our promises, strive for constant improvement, and develop solutions that are mutually beneficial for us and our customers. We continually create innovative, diversified storage solutions and hardware/software integration services for various industries. We endeavor to become a better partner in the industrial ecosystem and deliver substantial benefits to all stakeholders. Find out about Apacer's products for industrial applications at: https://www.apacer.com/