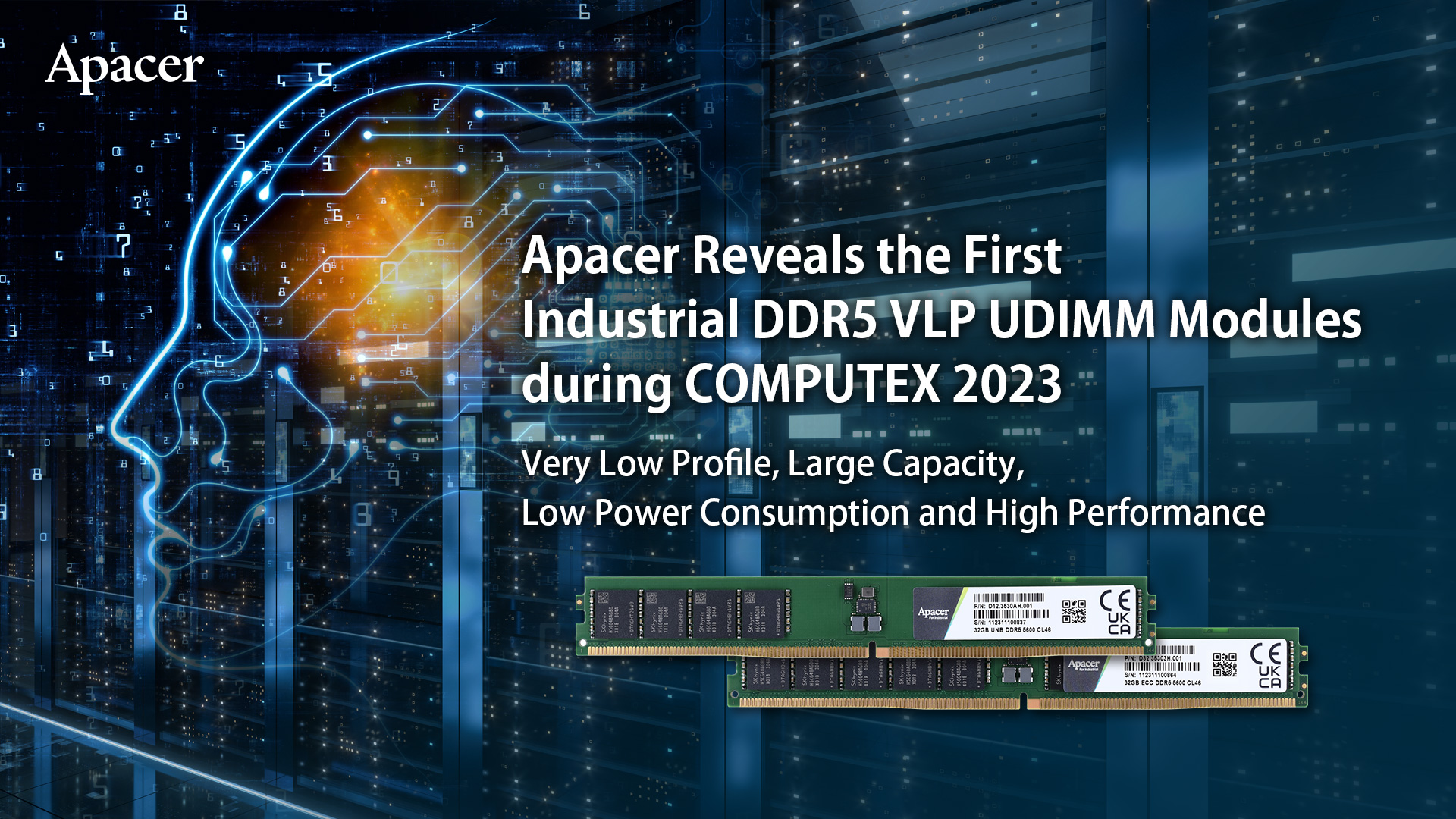 Apacer (8271), a leading international supplier of SSDs and DRAM, is proud to announce the release of the world's first industrial DDR5 VLP UDIMM module. It combines the advantages of Very low-profile dimensions, large capacity, low power consumption and high performance. This innovative product is designed for space-constrained high-density servers, as well as netcom, telecom, and embedded applications, and will be exhibited for the first time during COMPUTEX 2023 at the third floor of the Splendor Ballroom, located in Grande Luxe Banquet, Taipei, Taiwan.
Apacer's industrial DDR5 VLP UDIMM modules are available in 16GB and 32GB versions, and there are also DDR5 VLP ECC UDIMM modules to suit other applications. Both modules support a transmission speed of up to 5600MT/s and have high bandwidth to provide customers with an excellent computing experience. They adopt a very low profile design, and the height is only 18.75mm. It's designed to not only save valuable space, but also improve the cooling effect of the system and save energy. At the same time, the design greatly improves system creation flexibility, and effectively reduces the space occupied by and the power consumed by the system.
In addition to the products mentioned above, DDR5 VLP RDIMM products are expected to be launched in the second half of this year. The huge data sets used in modern applications such as AI language models or text and image generation require end-to-end protection to keep data errors to a minimum. To meet the challenging standards in markets such as edge computing, data centers and AI, Apacer offers the most complete line of industrial VLP memory modules in the industry, providing customers with more efficient, reliable and robust solutions, while promoting the continuous development of the entire market.
Apacer's "Drive The Change" exclusive exhibition for VIP customers is open to global buyers and consumers. Visit the third floor of the Splendor Ballroom in Grande Luxe Banquet, Taipei, during COMPUTEX 2023, from May 30 to June 2, and experience Apacer's latest developments first-hand!
【About Apacer】
Founded in 1997, Apacer (TWSE:8271) is a leading global digital storage brand with comprehensive R&D, design, manufacturing, and marketing capabilities. With years of accumulated patented digital storage technology and deep successful R&D experience, Apacer provides a competitive range of customized products and services. Our product lines are diversified, covering solutions for memory modules, industrial SSDs, consumer digital storage products and Internet of Things integrated applications.
Apacer is devoted to implementing our core value "Becoming Better Partners:" we deliver on our promises, strive for constant improvement, and develop solutions that are mutually beneficial for us and our customers. We continually create innovative, diversified storage solutions and hardware/software integration services for various industries. We endeavor to become a better partner in the industrial ecosystem and deliver substantial benefits to all stakeholders. Find out about Apacer's products for industrial applications at: https://www.apacer.com/en/industrialoverview/industrial-overview