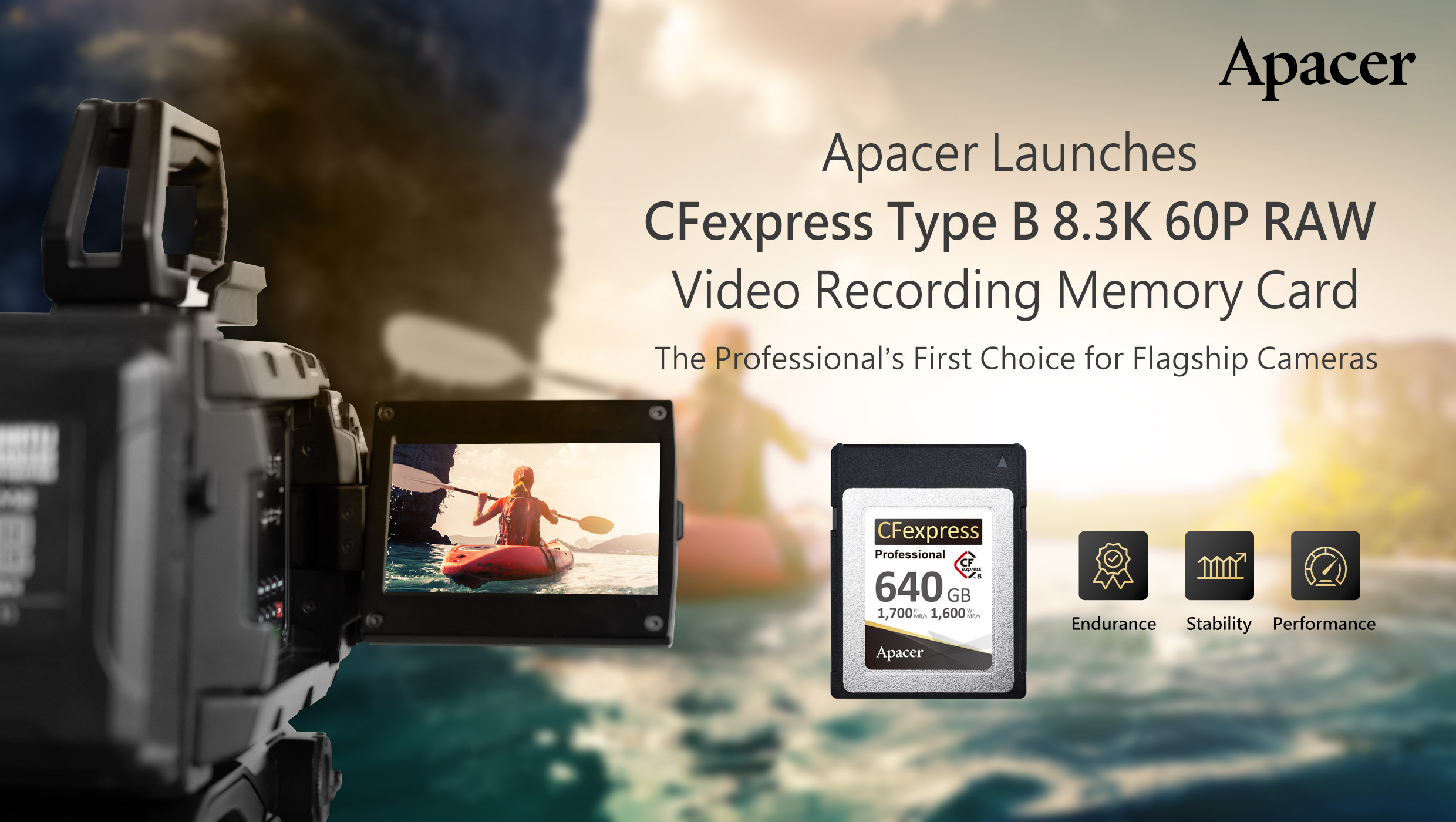 Apacer Technology (8271), one of the world's leading industrial storage and memory manufacturers, has been in business for more than 20 years, all the while focused on the research and development of non-volatile flash memory and solid state drives. With the needs of professional video photographers and editors in mind, Apacer's engineers created a high-performance memory card solution specially designed for these users. It's optimized for use in high-speed continuous shooting cameras as well as digital video recorders, and it is known as the Professional Grade PC32CF-R CFexpress Type B memory card. With excellent read/write performance, large capacity and rock-solid reliability, it has become an indispensable asset for the photography and videography industries.
Specially Built for Flagship Cameras, Ultra-high-speed access, Dedicated to Video Recording
Apacer professional-grade CFexpress Type B memory cards are carefully crafted for flagship cameras, and stand out for their superior access speed and professional video recording capabilities. These memory cards adopt high-endurance NAND Flash and high-speed PCIe Gen 3x2 interfaces. The continuous reading speed can reach 1,700 MB/s, the continuous writing speed can reach 1,600 MB/s, and the continuous writing speed can be maintained at 1,500 MB/s. These performance features can cope with the extremely high-speed conditions of 4K/120P and 8.3K/60P RAW lossless compression recording, and meet the specification requirements of mainstream high-definition cameras and flagship cameras. These memory cards provide the highest level of picture detail and post-production latitude, bringing better performance to image creation.
Compatible with Major Flagship Cameras, Passed Rigorous Testing, Plugged and Unplugged More Than 12,000 Times
Apacer CFexpress memory cards have undergone strict compatibility tests to ensure seamless cooperation with major flagship cameras. The memory card incorporates industrial-grade technology, and has carried out detailed testing and firmware optimization on high-end cameras of major brands to ensure the compatibility and smooth reading and writing of the card during use, and completely avoid issues related to stuttering. In addition, the memory card has undergone a series of rigorous tests in the laboratory, which complies with the strict specifications of the CF Association. The plug-in test has exceeded 12,000 times to ensure that the product has reached an excellent level in terms of quality, performance and read-write stability. Photographers can use it with peace of mind.
Flexible Selection of Multiple Capacities to Meet Creative Needs in Various Fields
The PC32CF-R CFexpress memory card offers a variety of capacity options, including 160GB, 320GB, and 640GB, to meet different video storage needs. Flexible capacity options allow audio-visual workers to experiment with the creative process, make full use of the advantages of professional-grade CFexpress memory cards, easily shoot and store a large number of photos, and provide wider possibilities for digital image creation.
For more product information:
https://www.apacer.com/en/product/personal-product/detail/personal_memorycard/cfexpress_typeb_pc32cf-r
【About Apacer】
Founded in 1997, Apacer (TWSE:8271) is a leading global digital storage brand with comprehensive R&D, design, manufacturing, and marketing capabilities. With years of accumulated patented digital storage technology and deep successful R&D experience, Apacer provides a competitive range of customized products and services. Our product lines are diversified, covering solutions for memory modules, industrial SSDs, consumer digital storage products and Internet of Things integrated applications.
Apacer is devoted to implementing our core value "Becoming Better Partners:" we deliver on our promises, strive for constant improvement, and develop solutions that are mutually beneficial for us and our customers. We continually create innovative, diversified storage solutions and hardware/software integration services for various industries. We endeavor to become a better partner in the industrial ecosystem and deliver substantial benefits to all stakeholders. Find out about Apacer's products for industrial applications at: https://www.apacer.com/