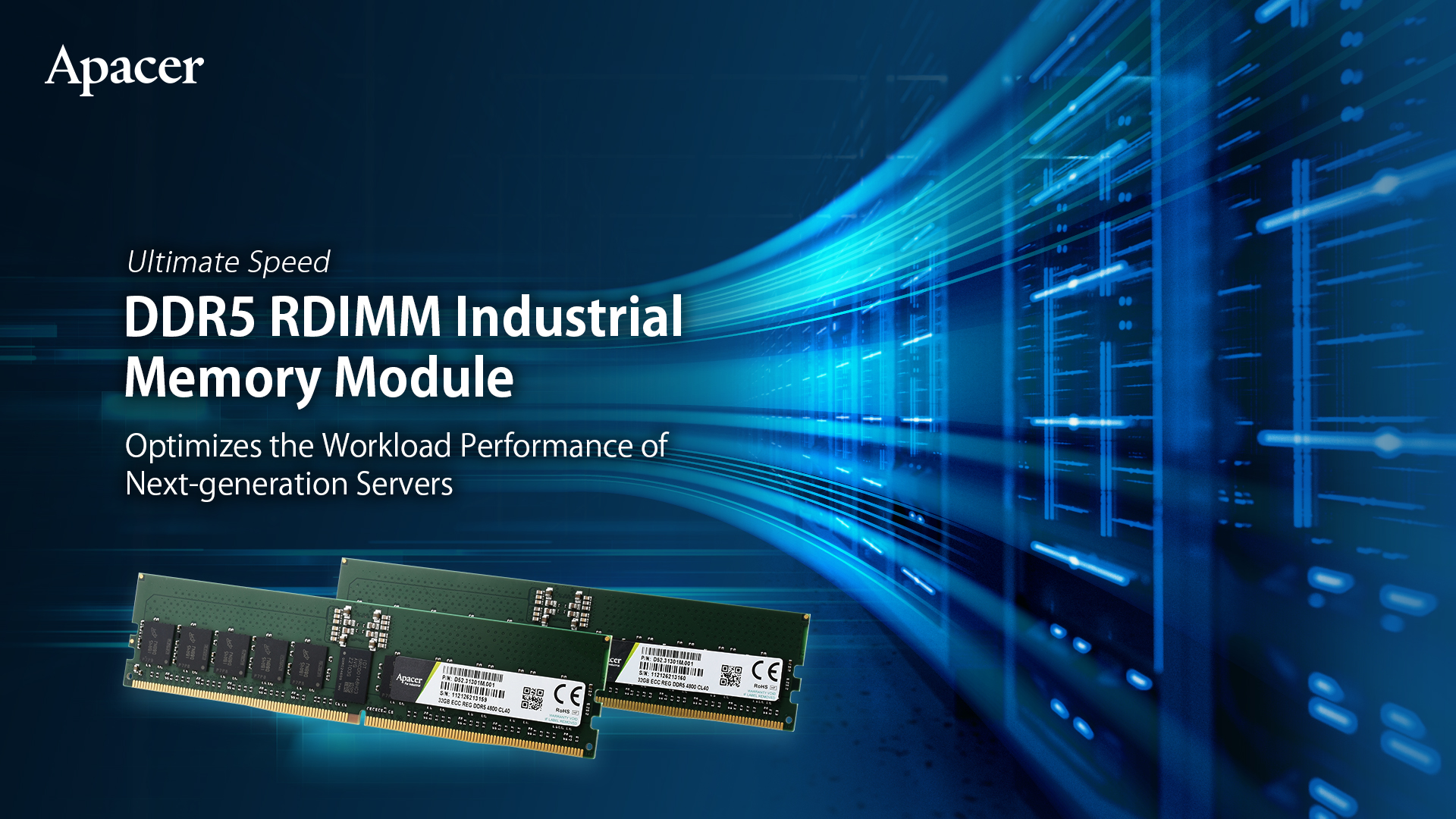 Following the successful releases of DDR5 UDIMM and SODIMM modules, Apacer, a leading international manufacturer of SSDs and DRAM modules, is proud to announce the debut of DDR5 RDIMM industrial DRAM modules for servers. This product fully supports next-generation data center and server applications. And it's expected to be launched simultaneously with the Intel Eagle Stream server platform in the second quarter of 2022.
Apacer has cemented its position as an industry leader with yet another DDR5 product about to enter production, proving its technical strength beyond a doubt. Indeed, the DDR5 RDIMM module was a particularly complex product to develop. It incorporates four new components: a DDR5 registering clock driver, a power management IC, temperature sensors and an SPD hub. It also features a new channel architecture, based around two sets of independent 40-bit sub-channels which improve efficiency and reliability.
Currently, the demand for high-performance computing in AI and edge applications is almost overwhelming. Apacer's DDR5 RDIMM modules will deliver improvements in performance, capacity, power consumption and reliability that these applications seek. For example, it is equipped with a 12V power management IC to control the power load of the system more efficiently. This helps to improve signal integrity and reduce noise in circuits. It also employs two high-precision temperature sensors which precisely track all changes in temperature, reducing the risk of overheating and improving performance. And it is protected by both on-die ECC and side-band ECC, providing end-to-end protection for data transmission and meeting the RAS (Reliability, Availability and Serviceability) requirements for data centers that operate 24/7.
Apacer's DDR5 RDIMM DRAM modules were designed for use with Intel's Sapphire Rapids and AMD's Zen4 Genoa processors. They support a frequency of 4800 MHz, and will initially be available in capacities of 16 and 32GB. They are also available with Apacer's patented anti-sulfuration technology. They're yet another example of how Apacer is living up to its promise for 2021 of "Adding Value, Enhancing Collaboration."