As the worldwide pandemic winds down, the shift to remote work seems to be permanent for many employees, and portable data storage devices are now an indispensable accessory. With this in mind, Apacer, the world's leading digital storage brand, has launched its lightweight and stylish AC533 USB 3.2 Gen 1 portable hard drive. The hard drive's exterior is protected by dual rubber grips, making it look good and easy to carry. It's available in three color schemes, and in capacities up to 5TB. And data transfer speeds are amazingly fast, thanks to the USB 3.2 Gen 1 interface.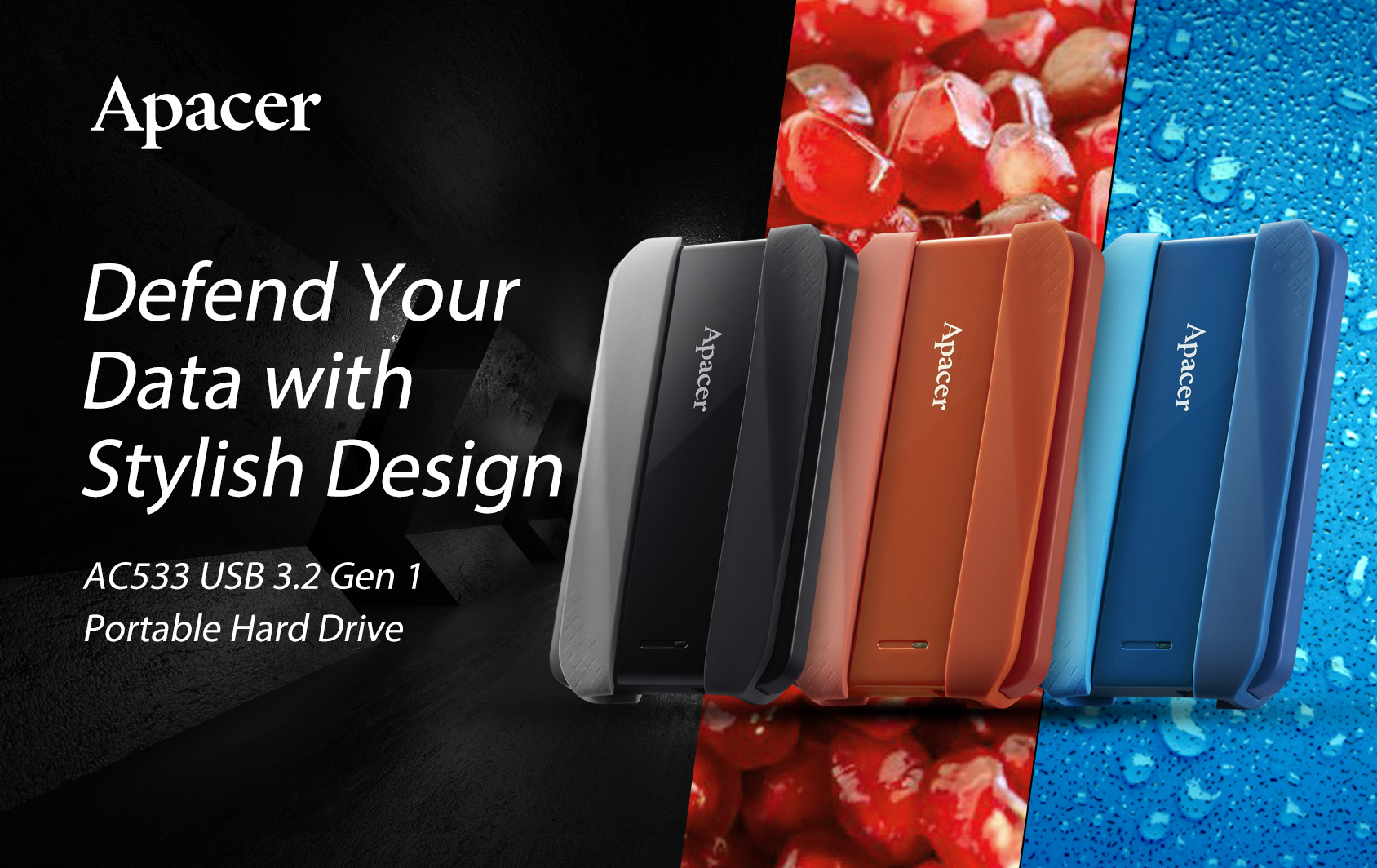 Dual Rubber Grips For Stylish Security
The dual rubber grips that protects the AC533 portable hard drive reduces impacts and lets users keep a secure grip on their data. It can be removed or replaced quickly if needed. This flexibility is something other drives just don't offer.
Pick Your Color and Capacity
Garnet red. Vibrant blue. Jet black. Whichever color you choose, your AC533 portable hard drive is sure to stand out. Pick the one that matches your personal style. And the choice of 1, 2, 4 or even 5TB of storage space is up to you as well. The largest capacity would store somewhere around 2.5 million photos and over 2,000 hours of Full-HD video. Each user can find the right combination of color and capacity that meets their needs.
Dual LED Indicators Show Transmission Speed
The AC533 is designed to work best with a USB 3.0 interface, but it's also backwards compatible with USB 2.0. During operation, the indicator LED will flash blue if USB 3.0 is being used, or red if USB 2.0 is being used. Users can therefore predict transfer times at a glance. And since the hard drive ships with an ultra-durable USB Type-A female socket, it can be plugged in and removed over 10,000 times. Longevity and survivability are what this hard drive's all about.