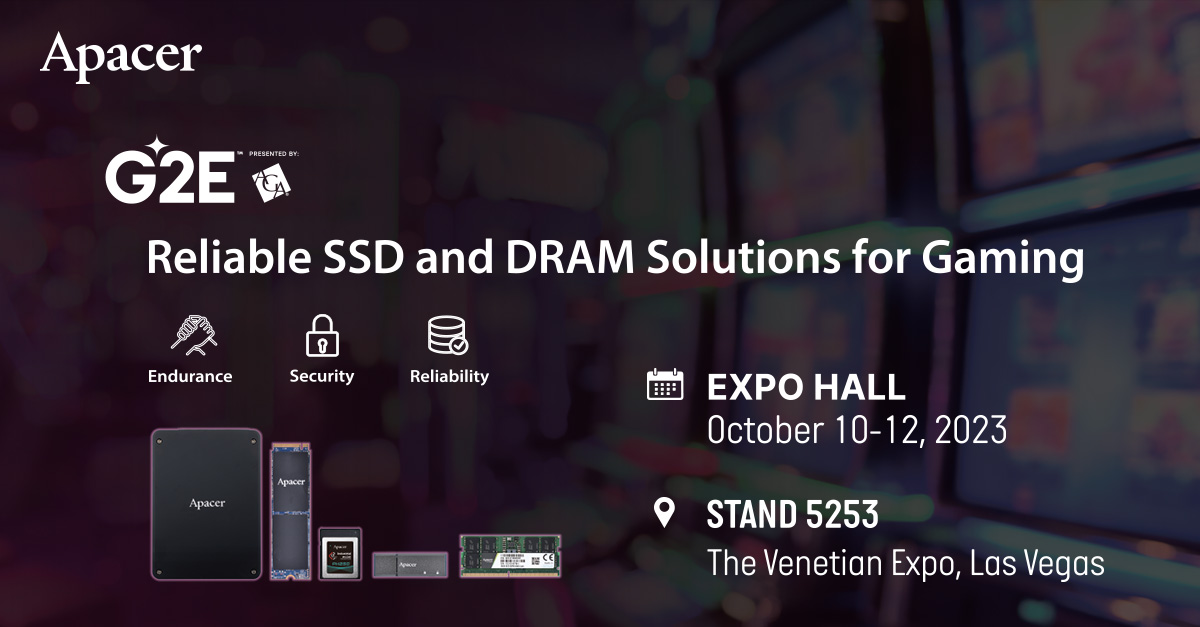 Casino gaming is experiencing a rebirth as the Covid pandemic recedes. It's not just customers coming back to the tables. There are many revolutionary new technologies on the market now, and the best place to see them all in person is at the Global Gaming Expo (G2E). G2E is the world's premier gathering of commercial and tribal gaming professionals. For more than 20 years, G2E has served as the catalyst for gaming's growth and innovation by convening the global industry to define tomorrow. In 2023, the Expo Hall will be held from October 10 to 12 at the Venetian Expo in Las Vegas, Nevada. Apacer will be attending! Come visit Booth 5253 to chat face-to-face with Apacer's friendly representatives, and view our total SSD and DRAM module solutions for gaming.
Speaking of DRAM module, Apacer is one of the few manufacturers to have a complete line of DDR5 modules in production, and they'll be on display at G2E, including our popular SODIMM modules. For customers who still need DDR4 modules, we maintain a robust selection. Other new products that have already proven popular with our customers include PCIe 2242 and 2280 SSDs, as well as CF Express cards.
Apacer offers reliable, long-lasting, secure products as well as technologies that can improve data integrity, longevity and security. For example, Apacer's Write Protect technology prevents unauthorized users from tampering with valuable gaming machine data. Apacer's engineers have also developed the SLC-liteX technology, which allows for the creation of SSDs with up to 100,000 P/E cycles. The resulting SSDs offer superior longevity even in the most write-intensive applications. And then there's Apacer's CoreSnapshot technology. It's a true system disaster's savior, and can restore full operation to devices showing a Blue Screen of Death in just moments.
Apacer's knowledgeable support staff are looking forward to discussing these products and many others with everyone they meet at G2E 2023. Anyone who wants to learn more about the latest digital storage options should visit Apacer at booth 5253.
【About Apacer】
Founded in 1997, Apacer (TWSE:8271) is a leading global digital storage brand with comprehensive R&D, design, manufacturing, and marketing capabilities. With years of accumulated patented digital storage technology and deep successful R&D experience, Apacer provides a competitive range of customized products and services. Our product lines are diversified, covering solutions for memory modules, industrial SSDs, consumer digital storage products and Internet of Things integrated applications.
Apacer is devoted to implementing our core value "Becoming Better Partners:" we deliver on our promises, strive for constant improvement, and develop solutions that are mutually beneficial for us and our customers. We continually create innovative, diversified storage solutions and hardware/software integration services for various industries. We endeavor to become a better partner in the industrial ecosystem and deliver substantial benefits to all stakeholders. Find out about Apacer's products for industrial applications at: https://www.apacer.com/