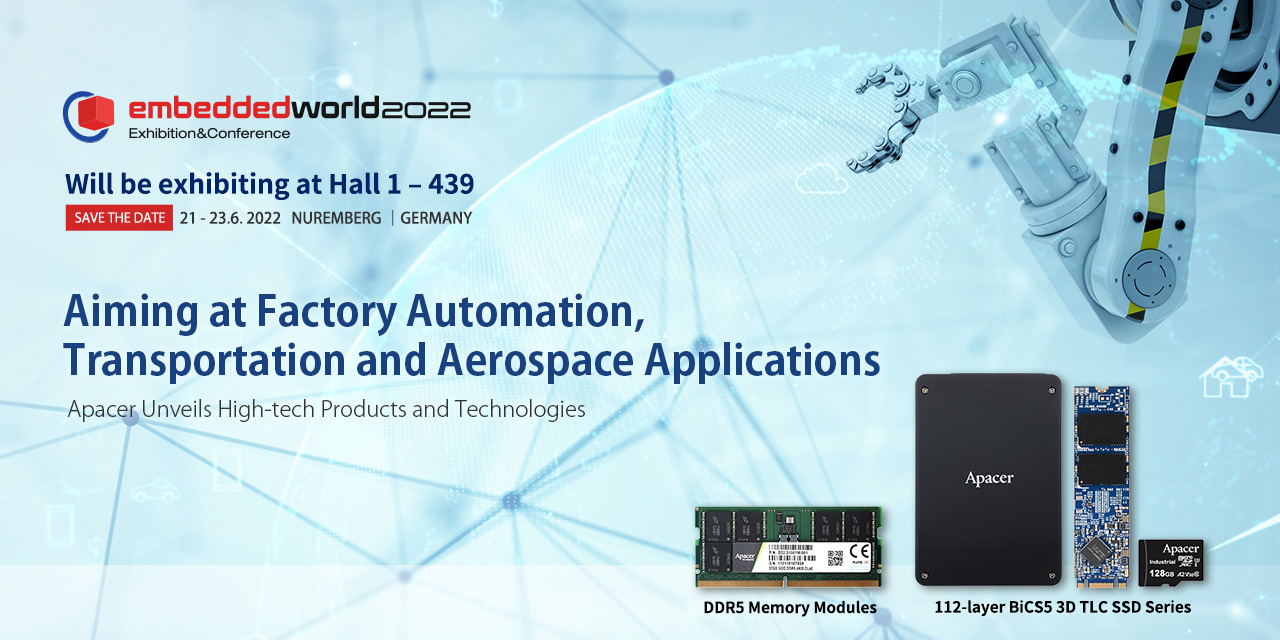 Apacer is proud to join the ranks of international exhibitors showcasing their latest technologies at Embedded World 2022 from June 21 to 23 in the Nuremberg Exhibition Centre. Apacer will be there to demonstrate the latest products and value-adding features to all attendees. In particular, attendees will be able to see 112-layer BiCS5 3D TLC, PCIe Gen4 x4 SSDs, and JEDEC Raw Card Revision 1.0 DDR5 DRAM modules. SLC-liteX SSDs which can reach 100,000 P/E cycles will be shown, as well as the CoreSnapshot lite2 technology. Spanning the distance from the edge to the cloud, Apacer's rugged, highly secure products meet the demanding requirements of industrial application providers.
Apacer has teamed up with leading IPC makers and remote device platform providers including Advantech, Allxon and ASUS Cloud. By integrating CoreSnapshot's one-second backup and recovery technology into their existing platforms, we made disaster recovery easier than ever. It even supports OOB (Out-of-Band) and iBMC (intelligent Board Management Controller) technology to allow recovery in the most challenging situations. Customers are also sure to love Apacer's latest improvements in SSD optimization. SLC-liteX SSDs are now available with up to 100,000 P/E cycles. Anyone who is interested in the highest available endurance would be wise to check these out.
Apacer has over 25 years of manufacturing and testing experience. These are put to good use, creating products that industrial customers can trust. Without this wealth of experience, Apacer wouldn't have been able to develop JEDEC 1.0-compliant DDR5 DRAM modules, BiCS5 SV240 series SSDs, or PCIe PV930 SSDs with various specs to select from. Nor would Apacer's engineers have been able to develop value-adding technologies such as coating, sidefill and anti-sulfuration protection for rugged industrial wide-temperature SSDs. It's total dedication to constant improvement that helped Apacer create the SH24D defense-series SSDs that have passed eight military standard tests created by the US Department of Defense. To see groundbreaking products like this and more, come visit Apacer's booth at Embedded World 2022 in Nuremberg, Germany.
Embedded World 2022
Exhibition Dates: June 21-23, 2022
Booth: Hall 1, No. 439, Nuremberg Exhibition Centre