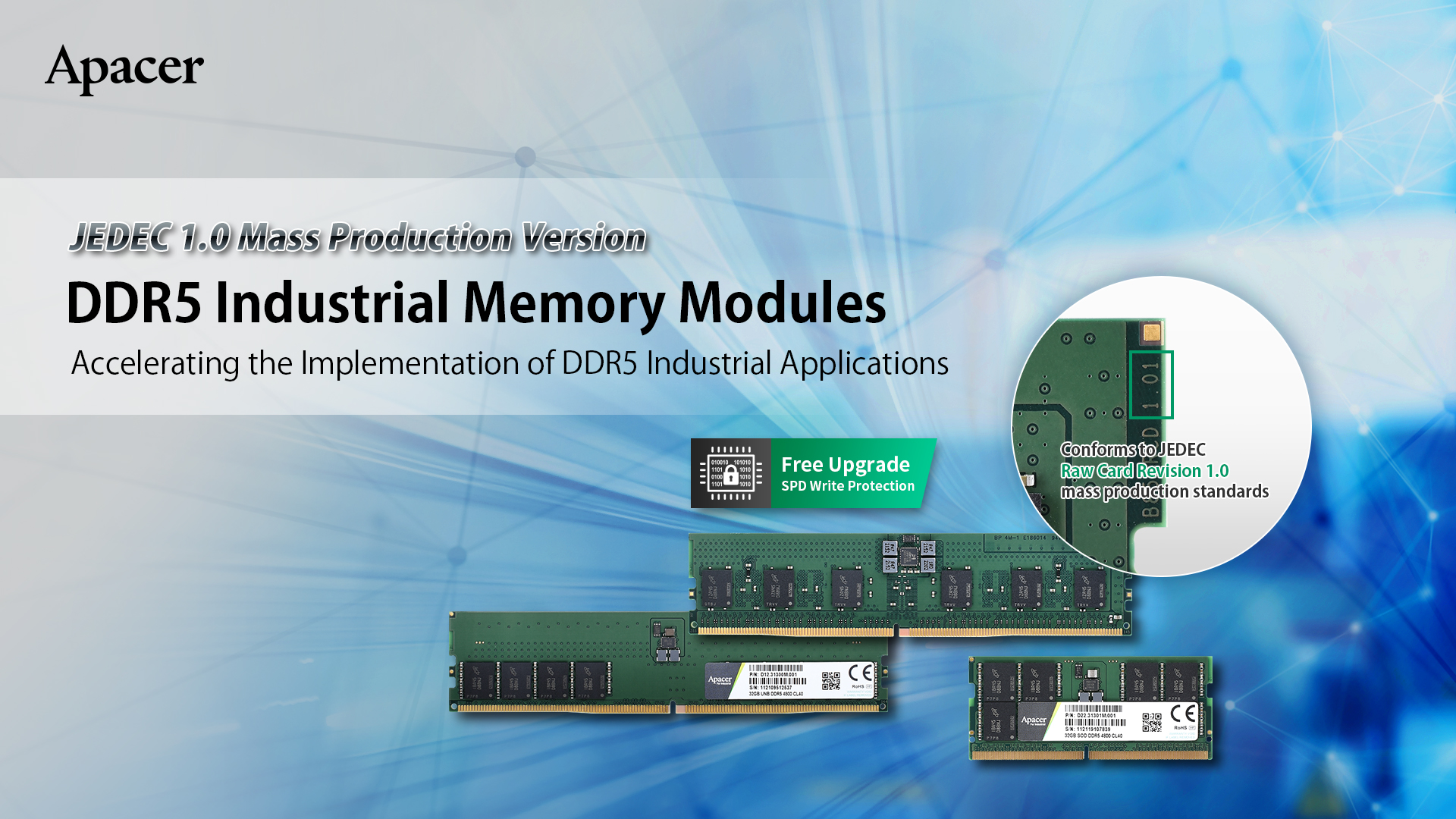 Apacer is launching JEDEC Raw Card Revision 1.0 mass production versions of DDR5 UDIMM, SODIMM, RDIMM, ECC UDIMM and ECC SODIMM industrial memory. As one of the first memory module manufacturers able to begin mass production of DDR5, the gap between Apacer and its competitors is expected to widen. Apacer's JEDEC 1.0 mass production version of DDR5 industrial memory can accelerate the implementation of DDR5 industrial applications, and continue to drive the introduction of high-end applications such as AIoT, servers, data centers, and high-performance computing (HPC).
The JEDEC Solid State Technology Association recently released the DDR5 UDIMM, SODIMM and RDIMM Raw Card Revision 1.0 mass production standards. This is a clear indicator that DDR5 memory has officially passed a mass production milestone on the path from product design, functional verification and system verification.
At present, all the DDR5 products on the market are still at the engineering level of development. Apacer is mass producing a full range of DDR5 industrial memory which is in accordance with the JEDEC version 1.0 specification, greatly enhancing product stability and reliability. The module timing definitions and transmission speeds also conforms to the latest JEDEC JESD79-5A DDR5 SDRAM standard to further shorten the data access latency for optimal performance.
Key memory parameters saved in the SPD of industrial memory are vulnerable to abnormal fluctuations in power supply, human operation errors and motherboard design problems. These can affect the stability of an industrial system and even cause issues with proper boot procedures. To counteract these issues, Apacer announced a comprehensive upgrade of the DDR5 industrial memory series, providing SPD Write Protection technology for free. This minimizes the risk of downtime caused by SPD data deletion or alteration, and meets the challenging requirements of industrial applications while improving system reliability.
Apacer offers the most complete DDR5 industrial memory product line in the industry, including UDIMM, SODIMM, RDIMM, ECC UDIMM and ECC SODIMM specifications. 8GB, 16GB and 32GB capacity options are all currently available. In response to the increasingly diverse 5G, AIoT and edge computing application scenarios, Apacer's full range of DDR5 industrial memory can support value-added environmental protection technologies including Anti-sulfuration, 30µ gold finger, Underfill/Conformal Coating. Reliability and durability are greater than ever, providing the strongest support for industrial applications.