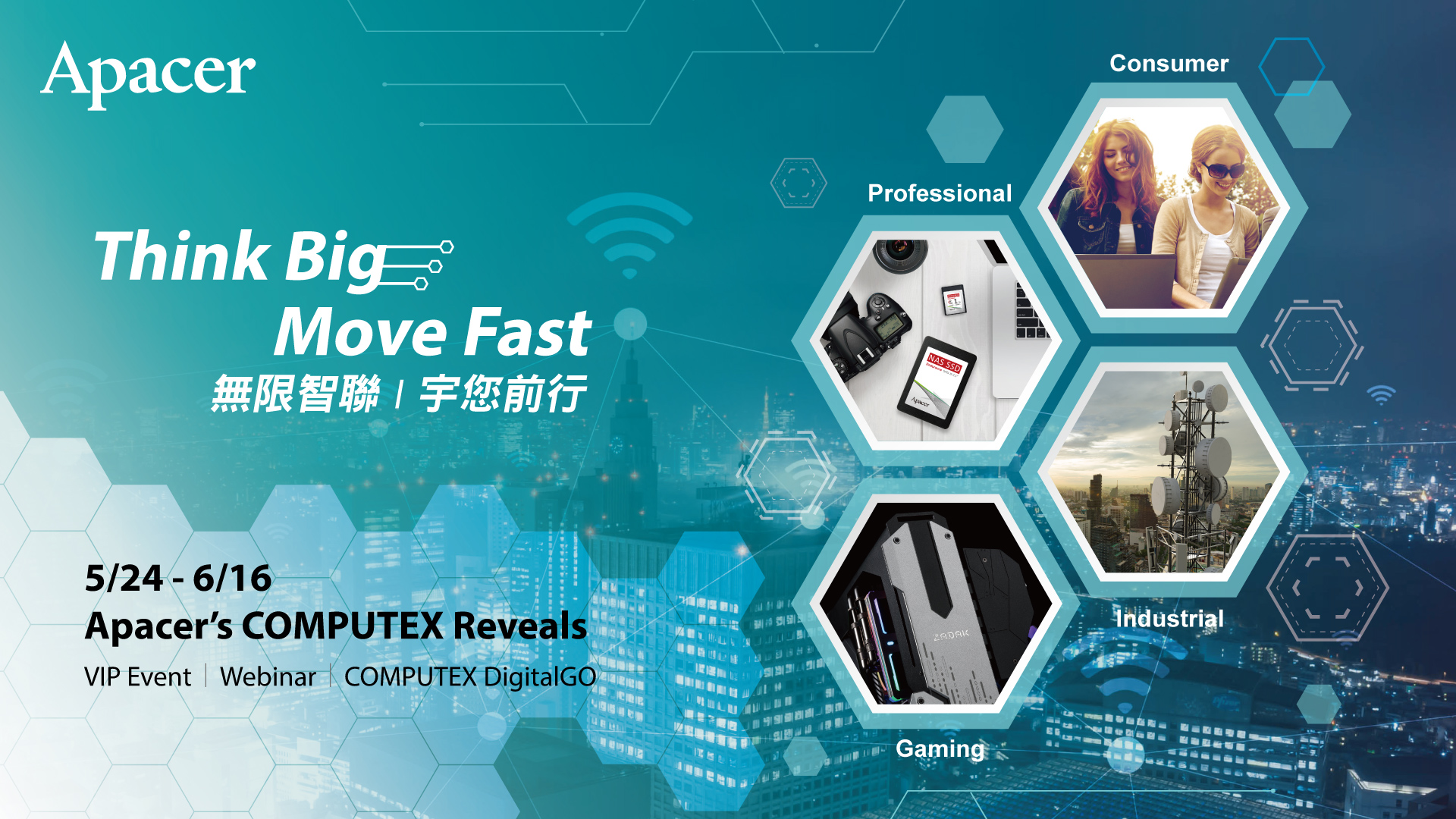 Apacer, the world's leading brand of storage and memory, is devoted to innovation, and has launched online exhibitions during COMPUTEX for two consecutive years. This year, Apacer is expanding its COMPUTEX 2022 series of activities, with the theme of "Think Big: Move Fast." In addition to participating in the COMPUTEX DigitalGo online exhibition, Apacer simultaneously plans physical exhibitions for VIPs and webinars to showcase the latest product designs for consumer and gaming applications, and the R&D capabilities of industrial solutions. The online and offline presentations will combine to provide global customers with the full exhibition experience.
Revolutionary Industrial Technology for Next-Gen Applications
In response to the need for remote management of industrial devices in the post-pandemic era, Apacer continues to expand its industrial technology, releasing the CoreSnapshot Lite2 single-second backup and recovery alongside the DataDefender™ Plus software and hardware integration technology. CoreSnapshot Lite2 technology can remotely and repeatedly perform instant backup and recovery of SSDs under the Advantech WISE-DeviceOn / Allxon / ASUS Cloud public or private cloud service architecture, and supports Out-of-Band (OOB) functionality, which greatly improves system availability. The DataDefender™ Plus technology adds the function of real-time monitoring of the voltage at the host terminal of the system. It is designed with an intuitive interface to proactively alert users when the voltage is abnormal, and it can quantify data through software to assist users in analyzing terminal device usage behavior and improve SSD data protection.
On the other hand, Apacer also took the lead in developing the innovative Transformed SSD design. By adding a patented rugged connector to the M.2 2242 SSD, it can be extended to a highly customized M.2 2280 SSD. The Transformed SSD not only provides higher product scalability and development flexibility, but also successfully passed the US Department of Defense's MIL-STD-202G Method 213B shock test and MIL-STD-810G Method 514.6 vibration test. These SSDs are specially designed for the high reliability and diverse application requirements of industrial customers, and there are additional out-of-band management and scheduled power management modules to choose from. In addition, Apacer has also prepared high-performance PCIe Gen4 x4 SSDs and JEDEC 1.0 production version DDR5 industrial memory solutions to prepare for next-generation industrial applications.
Taking Digital Creators and High-end Gamers to New Performance Heights
The lifestyle changes brought about by the pandemic have made storage devices popular again. The protective features and colorful large-capacity options of the AC533 portable hard drive fully meet the needs of mobile users. The SDXC UHS-II U3 V90 is Apacer's first UHS-II memory card, with a read and write capacity of up to 290/260 MB/s, making it a digital professional's first choice. As the demand for gaming and entertainment expands, Apacer has launched the AS2280Q4U M.2 PCIe SSD that meets the PS5 capacity expansion specification. It adopts the latest PCIe Gen4 x4 ultra-fast interface and achieves a god-level performance of 7,400 / 7,000 MB/s, taking PCIe Gen4 SSDs to a new plateau of speed. The microSDXC UHS-I U3 V30 A1 gaming card is also compatible with handheld game consoles, easily allowing them to expand their storage capacity.
The PANTHER RAGE RGB DDR5 gaming memory module is a new flagship product for gaming, with a unique design and a new upgrade to meet players' pursuit of their ultimate ambitions. Apacer's high-end gaming brand ZADAK simultaneously exhibited a variety of products, and this year launched the TWSG4S M.2 PCIe Gen4 x4 SSDs. These ship with two kinds of heat sinks – ultra-thin graphene and aluminum. They can effectively cool down systems by 15% and 35%, respectively, while maintaining stable performance, which is a crucial key to success for gamers. And the SPARK RGB DDR5 gaming memory module has been significantly improved in performance, capacity, stability and power efficiency, aiming at the high-end gaming market and exemplifying the latest trends in gaming.
Apacer's "Think Big: Move Fast" COMPUTEX 2022 series of events invites global buyers, importers and consumers to experience the innovative product and technology exhibition from 5/24 to 6/16. Sign up for the webinar and have the opportunity to win Apple AirPods, an Apple Watch SE and many other gifts prepared by Apacer!