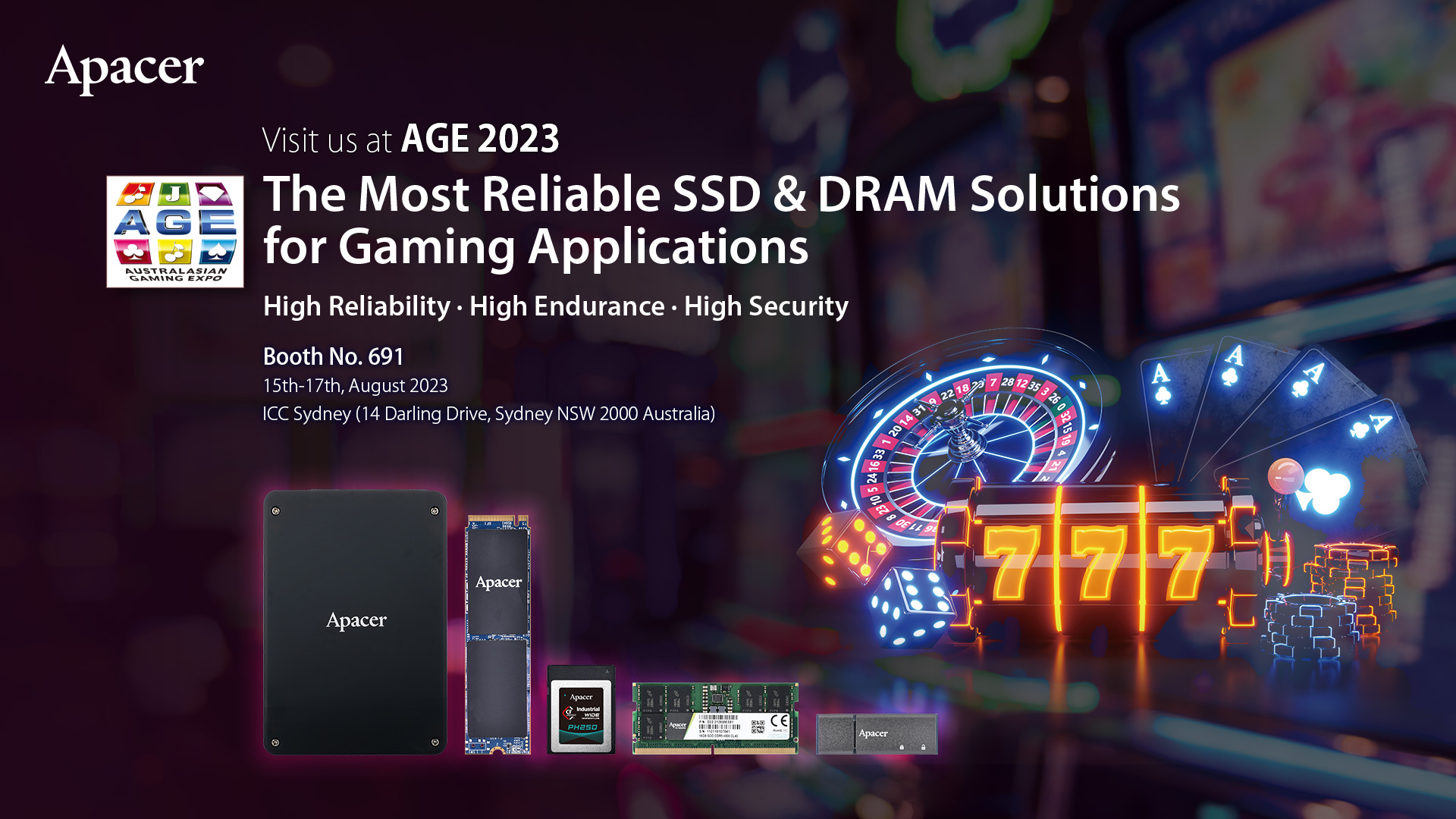 The gaming industry is as changing as rapidly as any other. According to TechNavio Research, the size of the global casino gaming market is estimated to grow at a CAGR of 4.86% between 2022 and 2027, increasing to 65 billion USD. Those who wish to see the latest in technology developments targeting gaming applications should not miss the AGE 2023 show in Sydney, Australia. It will be held at ICC Sydney at 14 Darling Drive from August 15th to 17th, 2023.
Apacer offers highly reliable, high-endurance and high-security products and technologies that can improve data integrity, longevity, power stability, security and survivability for gaming applications. Apacer's most popular SSDs include a highly diverse range of PCIe Gen4 x4 high-speed models, which allow gaming machines to render high-resolution video images at the snap of a finger. There's also DDR5 DRAM modules, available in SODIMM, RDIMM and UDIMM versions. Compared to DDR4 modules, the competitive advantages of DDR5 modules are light-years ahead, delivering a highly immersive gaming experience. Apacer offers a variety of DDR5 modules which are already in full production.
Be sure to check out other innovative offerings powered by with SLC-liteX technology. SLC-liteX technology can deliver up to 100,000 P/E cycles – the highest in the industry. And it can handle 24-hour operation and intensive data reading without a hiccup. There's also our CorePower data integrity protection technology, which is invaluable since it can avoid the loss of valuable game data when power is unexpectedly cut. Apacer knows that many customers are concerned about ESG compliance. With that in mind, Apacer created the Transformed SSD series and CoreSnapshot. The Transformed SSD series features customized PCB boards with rugged connectors that provide product flexibility, removing the need for constant redesigns and reducing material usage. Customers can choose from enhanced security, scheduled power management or OOB disaster recovery technologies. And CoreSnapshot is a technology suite that offers real-time remote backup and recovery, lowering carbon emissions and the costs of maintenance personnel.
Apacer's friendly and knowledgeable support staff are looking forward to discussing these products and many others with everyone they meet at AGE 2023. To really stay on top of developments in the gaming industry, this is a show that can't be missed. Anyone who wants to learn more about the latest digital storage options should visit Apacer at booth 691.

【AGE 2022 (Australasian Gaming Expo)】
Exhibition Date: 15-17 August, 2023
Location: ICC Sydney (14 Darling Drive, Sydney NSW 2000, Australia)
Booth No.: 691