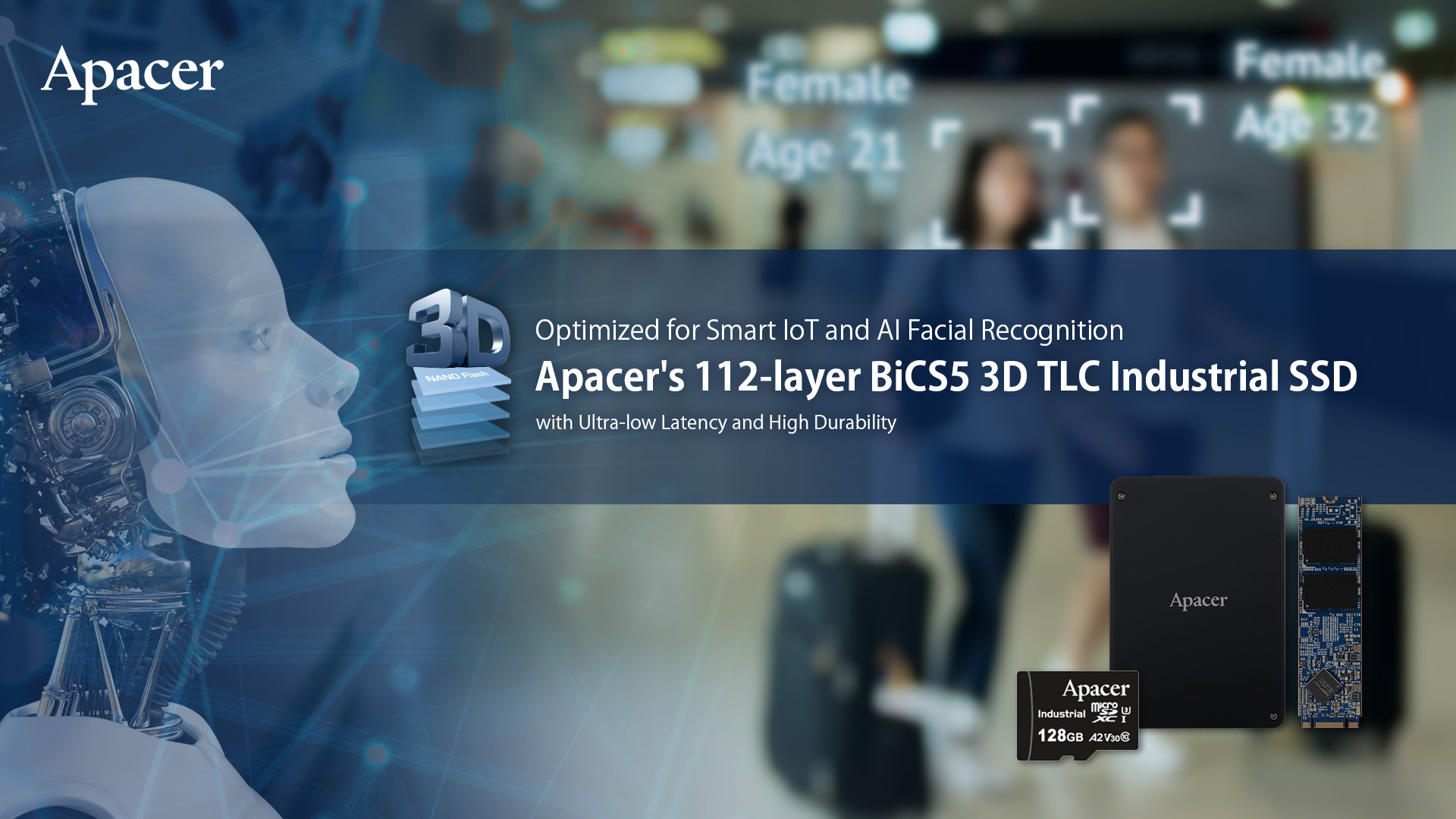 According to research from Mordor Intelligence, the facial recognition market was valued at USD 3.72 billion in 2020, and is projected to be valued at USD 11.62 billion by 2026, registering a CAGR of approximately 21.71% over the forecast period. Facial recognition technology is finally coming into its own. It has gone beyond police officers looking for a suspect on a surveillance camera. Now, smart AI-driven facial recognition technology is common in smart retail, finance, transportation and even healthcare applications. But as adoption spreads, facial recognition devices are being required to operate in ever-more-challenging locations and environments. Keeping all these developments in mind, Apacer developed and has now released the CH120 series of industrial cards powered by the latest 112-layer BiCS5 3D TLC NAND technology, optimized for both AI facial recognition and smart IoT applications.
BiCS5 promises concrete, measurable advantages for SSDs, as it greatly improves capacity while keeping transmission latency ultra-low. In fact, Apacer's A2-grade CH120 series offers 4,000/2,000 IOPS for 4K image read/write performance. And compromised environments won't slow these cards down either – their wide temperature range means they operate smoothly in temperatures as low as -40 and as high as 85 degrees Celsius. The CH120 series of industrial cards are also equipped with value-adding over-provisioning and SLC-liteX technology. The former drastically reduces write amplification, extending an SSD's operational lifespan, while the latter allows an SSD to increase its endurance to up to 30,000 P/E cycles. That's 10 times higher than standard 3D TLC SSDs.
The CH120 series of industrial cards are just the latest examples of how Apacer is living up to its brand spirit of "Adding Value, Enhancing Collaboration." They stand in a diverse BiCS5 3D TLC product lineup that includes the ST250 2.5-inch drives and the M.2 2280 industrial SSDs. Even greater upgrades in terms of capacity, latency and reliability are set to come as Apacer looks towards 2022 – offering appealing advantages for 5G, smart IoT, edge computing, secure surveillance, smart healthcare, and deep learning applications.